😌
Management
Crea Lead Admin
Crea Admin
Joined

Apr 8, 2020
Messages

329
Likes

2,157
Points

93
Hi all, over the coming days we are going to be adding a good few updates, events and giveaways. I know you are all going to like these so please take a quick read.
Giveaways:
Houses:
We will be giving away houses to two lucky winners. The first house will be non-VIP. The second will be for VIP members only, this house will come with a custom vehicle of your choice.
Vehicles:
The winner of this giveaway gets to select a custom vehicle of their choice, or one from our list.
Cash Stashes:
There will be several stashes in cash ranging in value from $5,000 all the way to $75,000!
VIP Giveaway:
We don't want everything to be luck based so we will be giving away VIP to winners of certain events, be it Deathmatches, Rallies or Derbies!
Prized Events:
We will also be giving away random prizes in events, such as drug packages, cash, and even weapons!
Vice City Police Department - Open recruitment
Do you have what it takes to join the VCPD?! Well good news, the VCPD will be hosting their very own open recruitment day in the very near future. Stay tuned for more details!
Mayoral Elections:
Yes, mayoral elections will be coming back, and this time the public will be voting. Fancy yourself as mayor? Keep your eyes glued to the IC section of the forums and be ready to spread your propaganda!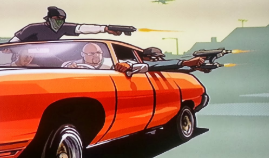 Updates to Official Gangs
Following on from this, we will shortly after be introducing the new "Turf" system. Take over all territories of Vice City and become the most powerful gang on the block with our new scripted turf system. Gangs can compete for turf and receive an increase on their paycheck for occupying more territory. More information will be posted soon!
The graffiti system will also be making a return to compliment the turf system. This will add to the diversity of gangs, allowing them to tag up their hood.
Crate Drops:
Keep your eye out and phone on and listen out for a message from MOLE (555). We will be increasing the frequency of crate drops giving you a chance to obtain more drugs and weapons!
Bank Robberies:
Is your speciality organized crime? Well grab a couple of allies and start planning your daring heist to hit the Vice City Bank. This is something that will be introduced very soon. You will present your plan to an admin who will over-see the heist. The PD will have to be given notice to what day it is taking place. Other than that, it's in your hands. Will you get out with the money, or will you take a trip to Vice City Correctional Facility?!
Housing:
We are going to be going with an idea
Dinkle
made so I will just quote him as he said it well:
The housing market with the current script is dead and dysfunctional regards to resell-ability. After a person purchases a house for the first time, I believe a housing tax should be 15% of the original value and the owner can sell it for whatever price they want. This creates a money-sink and also allows for people to actually resell their houses to players.
Example: John wants to sell his apartment. He paid $160,000 for the apartment and knows no one will probably buy it from him for that price.

John finds a buyer, they agree to sell it for $90,000.

The buyer pays John $90,000 for the house as well as a transfer fee. This is 15% of the Market Price of the house, which is $160,000. This means the tax price is $24,000. The total the buyer pays is $114,000.
Casinos:
Casinos are extremely limited at the moment, while we've nothing set in concrete just yet, we will be looking to add multiple card games to work within the script, making casinos more profitable for the owner, and more enjoyable for the customer!
The in-game events will be taking place starting tomorrow (July 4th and will continue over the weekend) - make sure you're in-game for a chance to win.
Thanks,
csj
Thank you to Techy & Horgan for assisting with the announcement
Last edited by a moderator: