😌
Management
SA:MP Lead Admin
SA:MP Admin
One-Niners
Joined

Apr 8, 2020
Messages

315
Likes

2,030
Points

93
If you haven't already noticed the forum has undergone many changes, some obvious (like
Conor
's beautiful new VC-style logo) and some not so obvious. I'll try to keep this announcement as concise as possible as I do not wish to bore you while there's a new Minecraft server to play on…
First order of business, themes! Some of you will have been following my status updates and noticed that banners have been chopping and changing, themes coming in and out (light/dark) and some other little tweaks which are still on-going. As of today (13th May) we now have a dark theme for all you insomniacs. To toggle this, simply click the 'crescent (moon thing)' and to switch back, the 'light bulb', thanks Edison. As well as this you now can choose from a selection of banners (see the image below my wonderful GIF), fortunately you can alternate between different modes and retain your banner selection too!
As well as introducing some suave new themes, we have also have a new homepage (
www.creagaming.com
) which will feature any important announcements, particularly for new Members/Guests unsure of where to start. The feature slider will continually be updated with any important content the admin team deem worthy of being featured up there - from time to time this will include things like particularly impressive faction threads or perhaps a piece of content like a video that a member of Crea Gaming has created - the opportunities are endless. In addition to this, we've also added a plugin so that you can snap nodes open/closed to hide the sections of the forums that you do not wish to see (see the gif below)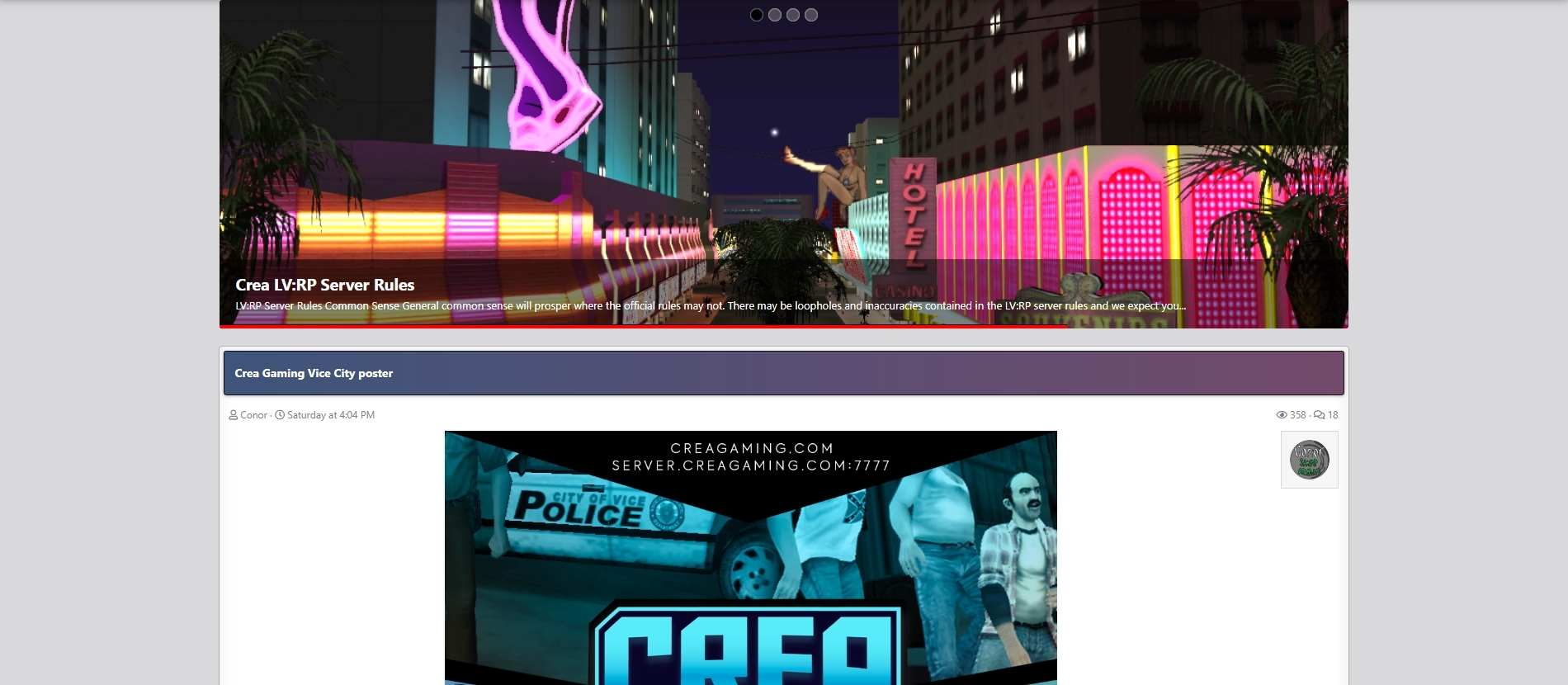 Moving on to something more important, email addresses.
A substantial amount of accounts registered on here have signed up with a temporary inbox, if you are one of the users that has an account with a temporary email address please get it changed over ASAP as it is now required that you use a more permanent alternative. Beyond the 22nd May we will not provide any support to accounts with forgotten passwords/email related issues if you are using a temporary one.
Anyways, back to the forums, as well as incorporating the new styles we also have the server status sidebar which features our TTT, Minecraft and soon to be (again) SA:MP server. As the community grows it's our hope that we see all of these servers brimming with activity and require slot increases but that's a little way down the road yet…which leads me to advertising and our plans for growing Crea. As well as this, we now have
Koky
's Battlegrounds section so please do check that out and show him as much love as possible for his hard work both on there and here respectively. Having already mentioned Minecraft we now have a dedicated section to the Minecraft forum, so many thanks to
Dinkle
for his hard work in getting this setup over the past weeks and hopefully it will continue to blossom. Some other smaller less obvious changes include:
Mobile logo's now link back to /forums/
Page numbers showing at the top of threads on mobile
Flags on users pages now showing based upon location
Signatures should automatically resize across all themes
8 profile posts/statuses appear in sidebar (was 5)
As some of you may or may not know, we have been doing a lot of behind the scenes work; speaking with affiliates on social media channels, working on PPC campaigns that are ready to be deployed closer to the VC launch date, SEO for the forums and some other things that I'll announce further down the road. The forum has seen incredible numbers in terms of activity, by this I mean the page views, amount of content posted, registrations and more, so please do keep this up and keep spreading the word about Crea Gaming. Further below are some snippets from Google, Search Console and Analytics highlighting the volume of hits I'm referring to and how we've bounced in Google's rankings incredibly quickly.
Around last week I believe we were somewhere on the third page when searching for Crea Gaming, we've now pipped Crea(?) the Steam game to the top spot which is great and pays testatement to the activity levels on the forums and engagements we've seen. Once our PPC campaigns go live we'll be up there competing with some of the very best SA-MP servers (not to name names) which should drive an increased amount of traffic to the forums and then hopefully in-game to make a better server for all of us and offer a more diverse style of RP. As I've mentioned already, I've been discussing and creating agreements with various affiliates that will post promotions for us on Instagram/Twitter to their audiences,
the reach of these posts will be approximately 500,000 people
- whilst this number is high my personal hope is to convert 0.2% of that number into forum members and
hopefully
active members in-game (don't worry, 0.2% is still 1,000 people!). Over time this is something we will continue to do and then expand to the realms of content creation by reaching out to YouTubers/Twitch/Mixr creators and more. In the meantime it's my personal hope and also the admin teams collective hopes that this is something that'll organically pick up and content creators just so happen to start playing on one of our servers.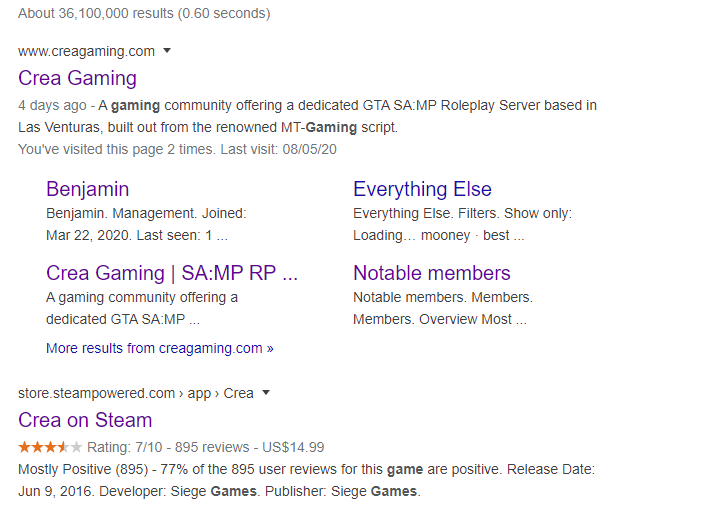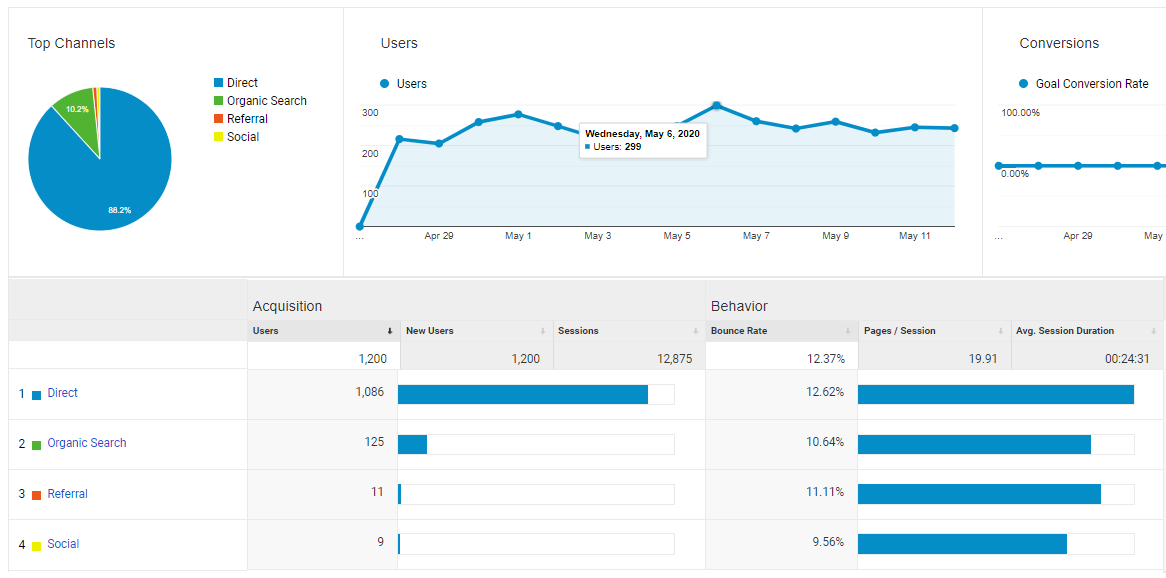 Whilst the organic search (when someone comes onto Crea Gaming through Google) figure is considerably low at 10% this is something we expect to rise as the forums content increase, if you're wondering what you can do to help get more members here and play your part, simply post useful and meaningful content, whether it's reposting a popular modification (with the creators permission) or posting a guide, any content visible to a Guest member will be crawled by search engine robots and thus eventually be indexed onto their search engines and ranked as a page.
The more meaningful content we have the better.
Of course this works in tandem with having more members as there'll be more activity which leads me to my final point.
Over the coming days we will be rolling a referral system out on the forums. On your profile you will soon find a referral link (unique to yourself) on a seperate forum page (most likely creagaming.com/referrals) there will be a weekly/monthly leaderboard for the most users referred. Each referred user has to post a minimum number of times and have a validated email account (this prevents anyone trying to cheat the system..I hope), in return for your hard work spreading the word about Crea Gaming there will be prizes.
This will include Steam Vouchers, VIP across Crea Gaming servers, Pizza and much more
. Stay tuned for that and I hope to announce a little more in the next few days.
Thank you for sticking around to those of you that have been here since the early days and keep your eyes peeled for any more Vice City related news.
tl;dr just look at the pics
Peace x
CSJ
Last edited: